License #36373
Soul Wisdom Therapy – Davis and Sacramento, CA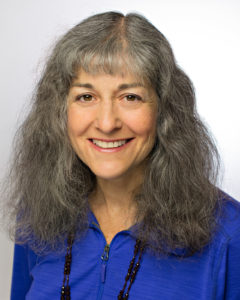 After a difficult childhood that included the divorce of my parents, I looked forward to leaving home and being my own person. Once on my own, though, I felt an emptiness, despite my new marriage and the promise of the life I wanted. I divorced after only two years, realizing I was not ready to be a partner and parent. In my early thirties I remarried, but I still felt an emptiness inside, which led me to Eastern spirituality and meditation.
A few mystical experiences opened doors to a deeper connection with my core self, or soul wisdom. After receiving an MA in transpersonal psychology (focuses on integration of mind, body, and soul/spirit.), I began serious study with a handful of Eastern-oriented spiritual teachers and I also immersed myself in the mystical elements of Judaism and Christianity. Today, my spiritual practice includes meditation, yoga, spiritual retreats, and being in nature whenever I can.
Because of my personal work with my own issues, I chose to specialize in areas that were a part of my own healing journey. For example, I work with eating disorders and anxiety because I struggled with binge eating and anxiety and did my own healing through work with a psychotherapist. I enjoy working on marriage and relationship issues because my husband and I found immense help in couples counseling.
My Approach:
I bring a profound connection with my "soul wisdom" to my work. This intuitive knowing informs the deep work I do as I help you discover your own soul wisdom and inner guidance. I love what I do and believe in being present, grounded, compassionate and nonjudgmental with my clients.
I promise that I will fully attend to you and your needs and goals for counseling. Working with me, you will discover your own path to soul wisdom, inner strength and new possibilities.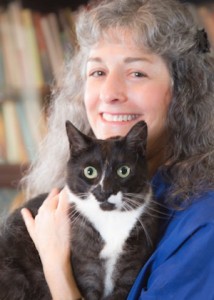 My Feline Assistant:
You should know that I have an assistant who comes to my therapy offices most days to assist me with my work: Dr. Maxwell Katz. Dr Katz, (he goes by "Max the Cat"), assists me through using meditation and hypnotherapy. He is usually seen with his eyes closed, sending healing energy to my clients. Don´t let some yawns and stretches fool you. He may sit fairly close to you but note that he will not touch you, and he won´t get too close if you have any allergies.
Specializations:
Trauma recovery
Sexual abuse recovery
Depression
PTSD
Anxiety
Phobias
Grief and loss
Chronic pain and illness
Eating disorders
Couples and pre-marital counseling
Certifications and Experience:
Over 24 years experience as a psychotherapist
Certified in Life Coaching
Certified in EMDR
Certifited as an I-Rest Teacher
Certifcate in Trauma Based Cognitive Behavioral Therapy
Certifited in Heart Based Hypnotherapy
Certificate in Somatic Experiencing (a "Somatic Experiencing Practitioner")
Certified in group psychotherapy through the American Group Psychotherapy Association
Extensive training in  Emotionally Focused Therapy for Couples and Families
Extensive training in Brainspotting
Have led the Awakening to Spirit Meditation Group in Sacramento and Davis for 15+ years
Serve on the professional team of complementary health practitioners of the Sacramento Sutter Downtown Integrative Health in Sacramento and the Sutter Davis Integrative Health Center in Davis. (link is http://www.checksutterfirst.org/integrativehealth/index.php )
Over 30 years of extensive study with spiritual teachers and mystics.
Extensive training and experience in energy psychotherapy methods, eating disorder therapy, EMDR, somatic (body-based) therapies, group psychotherapy facilitation and trauma-related therapies.
Education:
M.A. in Transpersonal Psychology from John F. Kennedy University
Masters of Public Health (MPH) from University of South Florida
Start Your Journey to Soul Wisdom Today—
Contact Me to Schedule Your Initial Complimentary Phone Consultation
Deborah Cohen, M.A., M.P.H., LMFT
debcohen@hotmail.com
http://www.deborahcohenmft.com
Phone: (916) 491-1216
or (916) 389-2800, ext. 1