We live on a planet of 7.97 billion people with varying beliefs, socio-economic backgrounds, religions, values, gender presentations, cultures, ages, living conditions, political views, and skin hues. Living together can be challenging if we hold firm to the idea that 'they' are wrong, and 'we' are right. If we think there isn't enough to go around, we will scramble to meet our needs and the needs of our families, forgetting that other people matter too.  
People often walk around with their heads down, either staring into screens or gazing at the ground. We rush past each other, so often without acknowledging the existence of our fellow planetary dwellers. For so many of us, it is a lonely existence. A simple act of kindness can make all the difference in the world, particularly if someone isn't expecting it.  
Doing acts of kindness benefits both the giver and receiver. It is a mood elevator and spirit lifter and it costs nothing since generosity is as free as the wind. Studies have shown that kind people are happier and happier people are kinder. Think about the last time you did something for another without expecting something in return. What did it feel like to know that you made a difference in someone else's life? Pretty good, hey? What did it feel like to be the recipient of someone else's generosity? Maybe warm and fuzzy and like you matter?   
Kind acts might include:  
Picking up items at the store for a friend while you are out

 

Leaving flowers at someone's door to brighten their day

 

Bringing in your neighbor's trash can or recycling bin

 

Shoveling a neighbor's driveway or mowing their lawn

 

Complimenting someone about something they are wearing

 

Letting someone go in front of you in the supermarket check-out line

 

Leaving an extra-large tip for a server

 

Donating money to charities

 

Cleaning out your closet and giving away gently used clothing 

 

Paying for someone's order behind you

 

Picking up litter while you are out walking

 

Smiling and making eye contact with people you see

 

Offering to watch a friend or family member's children

 

Visiting an elder who may be shut in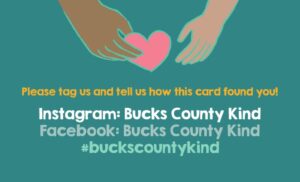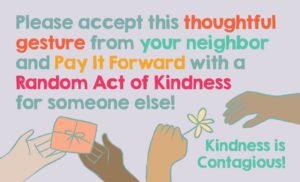 A few months back, two women in Bucks County, PA (a suburb outside of Philadelphia), decided to put their actions where their values are as they launched a Facebook group and a movement called Bucks County Kind. A professional in the pharmaceutical field and the mother of three, Joanne Petrun, had the initial idea after an encounter at a local bagel shop in Doylestown, PA.  "I paid for somebody's to-go order. The person happened to be there at the time. She came up to me and my kids and made such a big fuss about how grateful she was. And I thought, what an impact a stranger can have on another stranger. You could see it lifted her spirits."   From that point, the seeds took root and grew. She then posted a message on a community Facebook group page asking if local merchants would be willing to make cards available to their customers and clients that encouraged random acts of kindness. Edie Weinstein, who is a psychotherapist and interfaith minister, as well as the grandmother of two, saw Joanne's post and reached out to offer whatever time and energy she could to keep the process going. The two had never crossed paths until that pivotal moment. Both marveled at the synchronicity and were highly motivated to see this grow. Edie reached out to a friend who is a local artist, named Eric Labacz, and he designed the beautiful cards which bear a message inviting people to do something kind and then pass the card along.    Since the launch back in April 2022, the group has gone from a handful of people to over 1.2 thousand. At this point, over 50 regional retail locations, medical offices, doctors' offices, banks, restaurants, a car dealer, and a hospital carry the cards. They have been handed out at street fairs, farmers' markets, music festivals and Pride festivals.   Being part of the group is not limited by geography and cards have been sent by request to groups in Texas, Vermont, Colorado, and New Jersey.   Both Joanne and Edie see the importance of encouraging kindness, particularly as parents and grandparents. They want to set the example for the children they love.   Joanne stated, "My deep desire is that it gives people hope. I know what it's like when you're having a really bad day, and you're so in your own world and then a stranger does something for you. It just gives you hope and sometimes that's all I think we need."   Edie affirms, "We live in a world right now that is so divided by religion, by gender, by politics, by culture.  One thing that can bring us together is kindness. Kindness costs absolutely nothing."  
"Do your little bit of good where you are; it's those little bits of good put together that overwhelm the world." ― 
Desmond Tutu