Service to others is the rent you pay for your room here on Earth. –Muhammad Ali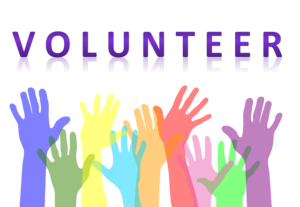 The winter holidays are on the horizon. Hanukkah overlaps with Christmas and this year it is celebrated from December 18th to December 26th.  Kwanzaa, Las Posadas, and the Winter Solstice add to the festivities. For some, this is a time of joy and for others, a time of grief and a reminder of the empty seat(s) at the table.  
One way to both express gratitude for the blessings in our lives and heal the hearts of those who mourn is to volunteer! 
Is volunteering as good for the giver as the receiver?  Are generous people happier people? 
According to a recent review of research by the CNCS (Corporation for the National and Community Service), volunteering contributes to wellbeing. The benefits include increased life satisfaction, lower levels of depression, higher levels of happiness, and a longer life span. 
Harry and Rose were lifelong volunteers. From the time they were children, growing up in the 1920s and 30's during The Depression, their parents reminded them they could be kind and generous regardless of the amount of money they had. Harry's family was financially poor, but rich in love. Rose's family was more affluent, so what was instilled in her was that she needed to pay it forward. When they married, he became a firefighter, and she served in the local hospital. They volunteered at their synagogue, and she was a room mother for her children's classrooms, as well as their Girl Scout troop's leader and swim team's coach. They had a "Helping Hand" sign in their front window throughout the 1970's, which identified it as a safe house for children who were lost or in danger. Even in their retirement many years later, they volunteered in their community. Most who knew them would say that they exuded a sense of warmth, welcome and happiness. 
What they modeled for their daughters was the idea that kindness costs nothing and generosity is free as the wind. As a result, both became active volunteers in their communities. They both also lived long, fulfilling lives. 
How do you feel when you give of yourself? Those who offer their time have said they find that the rewards they receive far outweigh the time they invest. Another thing you might consider is instead of spending money on lavish gifts for people in your life, keep it more contained and donate money to causes you hold dear. 
Ideas for volunteering and gift giving: 
Work

 at an animal shelter

.

 

Visit veterans in hospitals or shelters

. (Check for Covid protocols for this one.)

 

Go to nursing homes

. 

(Check for Covid protocols for this one.)

 

Write holiday cards to military personnel

.

 

Send cards to nursing home residents

.

 

Drop off gift baskets of goodies at your local hospital

or order a meal for staff who are often and underappreciated.

 

If you 

don't

 celebrate Christmas, volunteer at your 

local hospital

 so someone who does celebrate the holiday can have time with their family. 

 

Support toy or clothing drives in your community.

 

Become a mentor or a literacy tutor for 

someone.

 

Check in on neighbors who are homebound and bring them 

a meal or baked goods.

 

See if your f

aith community has opportunities

.

 

Tutor students.

 

C

lean out your closets and donate gently used items.

 

Take books to Little Free Libraries in your area.

 

Work in a soup kitchen or food bank.

 

Donate mittens, underwear and socks to organizations that collect them for people who are unhoused.

Work with Habitat 

For

Humanity.
Enjoy, with a full and open heart, whatever holidays you celebrate!
We make a living by what we get, but we make a life by what we give
. –
Winston Churchill